Whether you have your computer in your office, bedroom or designated computer room, changing up your space is something most people try to put off to avoid inconveniencing themselves, but it doesn't have to be as hard as you think. Check out our tips on how to upgrade your office with small changes that will take no time.
Storage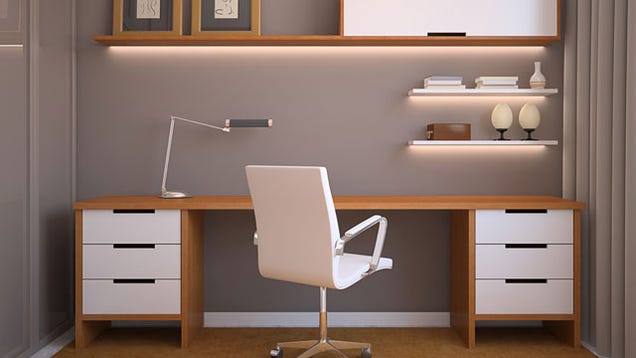 You want to have everything organized and filed away so your space won't look so cramped and overwhelmed. If you already have a file cabinet, consider upgrading to change the color scheme of your space to inspire creativity and shake things up a little, although it's just a file cabinet, it can influence the overall appearance of your space. If file cabinets aren't really your style or you want to try something different, consider getting a small storage cabinet that has open shelving rather than exclusively drawers. Storage cabinets are great if you have trinkets you want to show off and add to your room's overall personality.
Click here to check out our Meritline File Cabinet in Dark Brown (also comes in Beige)
Click here to check out our Meritline Standing File Storage Cabinet in Sonoma Oak
Detailed Organization
Take the time to make a place for all of your smaller items and organize your desk so it is easier to locate them and put important documents in places of priority to assure you won't forget about them. Taking small steps to further the detailed organization in your office could help lower stress levels since you are easily able to find everything you need, along with possibly increasing the speed in which you finish work you need to get done.
Try our Multi-functional Pencil Holder complete with alarm clock, indoor temperature and timer
Find a place for everything with our Merax Desk Organizer in Brown
Add Wall-Art
A great way to change up your space is to add your favorite movie poster, a framed family photo or anything in between on the walls in your office space. Being constantly surrounded by blank walls can get dull and subconsciously influence your work ethic. Bring some life back by adding some type of image to your walls or even a cheesy inspirational quote (Just Do It by Nike anyone?) a poster can run you as low as $5 and the only labor required is taping it up to the wall or using push pins. Framed art could be slightly trickier due to the weight but will also look more professional if that is what you are going for. We found this cool site that has a huge selection of graphic art!